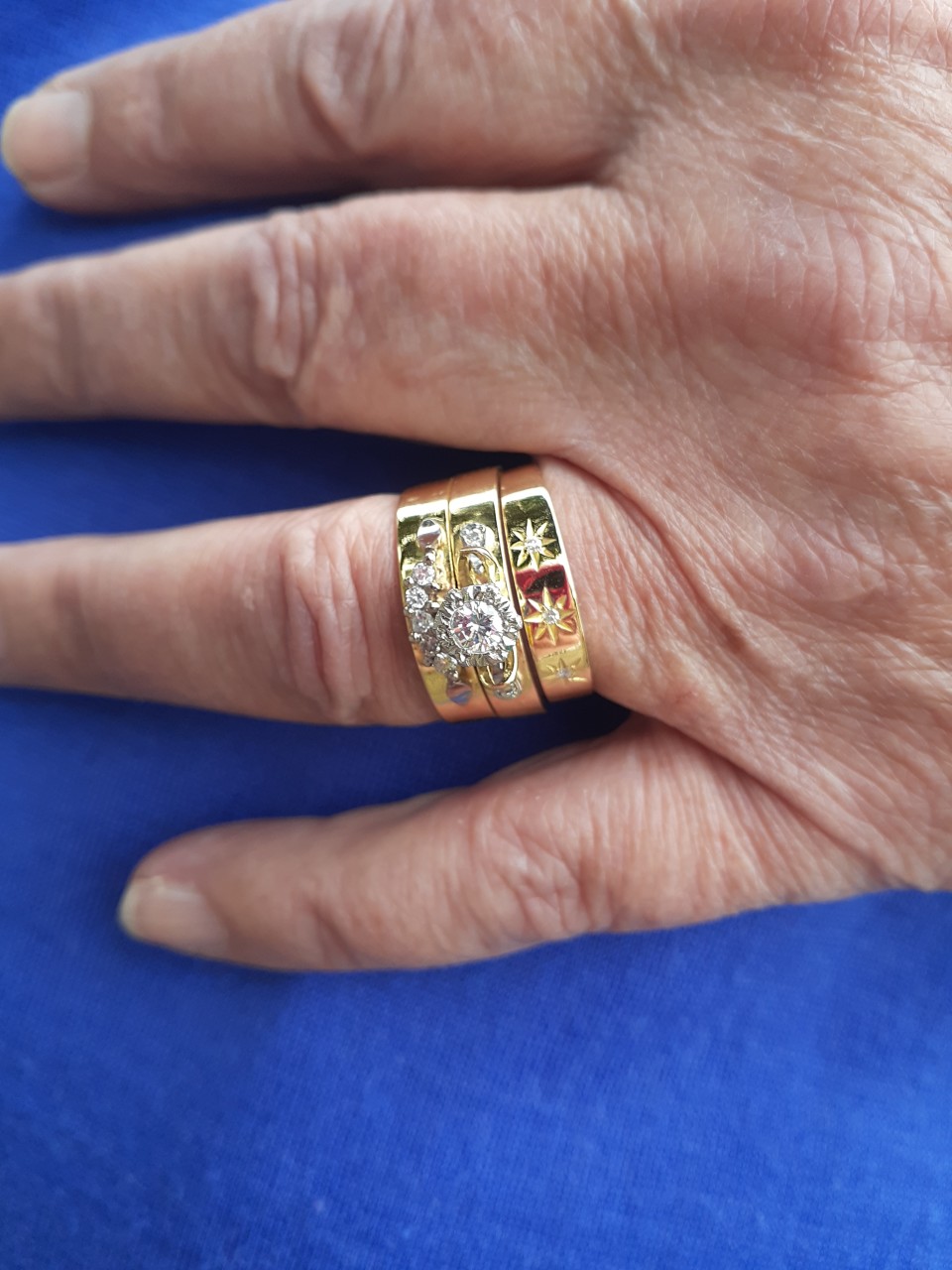 Up until last year, I had worn my rings for the past 45 years. The set comprises of three rings, each representing a part of my journey with my husband.

The first is my engagement ring. After only knowing each other 6 months, my husband decided to propose to me one day, while driving across the Harbour Bridge in Auckland. Me saying, "Yes", nearly sent us off the road! Now being engaged, there were a few things to do… ask my father for permission, and get a ring. The conversation with my father didn't go to plan with him saying a flat out, "No". However, my husband nicely informed dad that he was going to do it anyway, as it was his daughter he wanted to marry, not him. Shortly after, we travelled to Fiji, on a romantic getaway, a trial honeymoon you could say. Here we bought my engagement ring from Thew's.

Several months later, we returned to my home town of Rahotu, New Plymouth to get married. This is where I received my second ring, my wedding ring. We began our married life, living in Auckland, where we promptly tried to add to our family…

After about 8 years of trying, I finally gave birth to a son. However, devastatingly, he did not survive. At this time, my husband bought the third ring of my set. My eternity ring. We knew we would be together forever; an eternity you may say. I am so happy to be able to say we went on to have two healthy children in the coming years, and now are blessed with a beautiful granddaughter.

A few years ago, my husband and I retired and moved back to New Plymouth. Then, last year, I sadly had to have my rings cut off due to a ganglion cyst on my finger. After surgery, physio, and waiting several months for the swelling to go down, I was finally ready to have them resized, ready to return to their home… my finger. Bev at Dalgleish has been amazing through this and I am so glad they are back where they belong, ready for the next 45 years!
Book Your Bespoke Experience
A perfect piece.
A perfect reflection.
Your jewellery should be an expression of who you are and as special as the occasion or memory it is created to honour. Allow our master craftspeople to guide you through our bespoke experience. We take the time to understand your vision, budget and personal aesthetic so that we can create an exquisite piece of fine jewellery to treasure always.