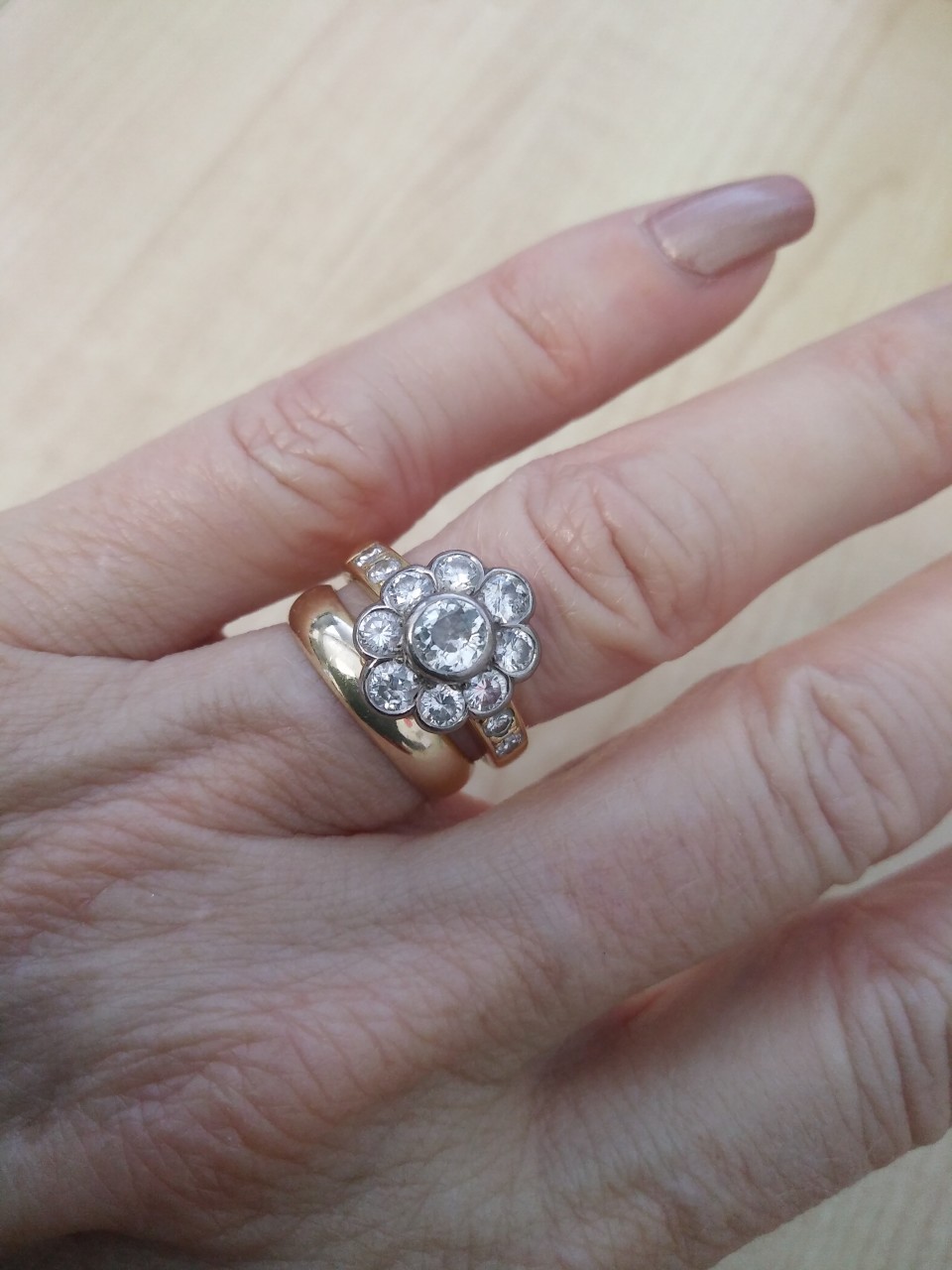 The diamonds in my "new" engagement rings had to make friends with one another and appear to have done so very well.
They have come from three rings, all with memories, to create something new.
I come from a large family so there was little chance of me inheriting jewellery. I did yearn to be able to talk about "Great Aunt Sophie" who I was close to and left me this very precious piece to remember her by. Unfortunately, all I had from "Great Aunt Anyone" was a memory! So, I was delighted to buy a ring at auction that I immediately named "Grandma's Ring" in the pretence that I had actually received an inheritance. It was an old setting with the added distinction of having a small chip that looks a little as if a mouse has nibbled one of the smaller diamonds.
The second ring was an eternity ring that I received after being married for a few years. Not chosen by my husband, but by my mother when she was travelling overseas. The final ring was a 30th birthday present that was once again bought second hand. The diamonds were a nice size and it fitted well with my wedding set.
I used to feel quite grand until I visited a jeweller who made the comment "I can do better than that, leave them with me". He offered me three choices of setting and then made the mistake of showing me the setting without the stones. My heart sank as it was such a heavy gold setting that, in spite of his assurances, worried me immensely until I received the finished article.
So for the past twenty years I have happily worn my ring that, while recognising it is dated, still carries the memories of its' earlier incarnations.
Book Your Bespoke Experience
A perfect piece.
A perfect reflection.
Your jewellery should be an expression of who you are and as special as the occasion or memory it is created to honour. Allow our master craftspeople to guide you through our bespoke experience. We take the time to understand your vision, budget and personal aesthetic so that we can create an exquisite piece of fine jewellery to treasure always.