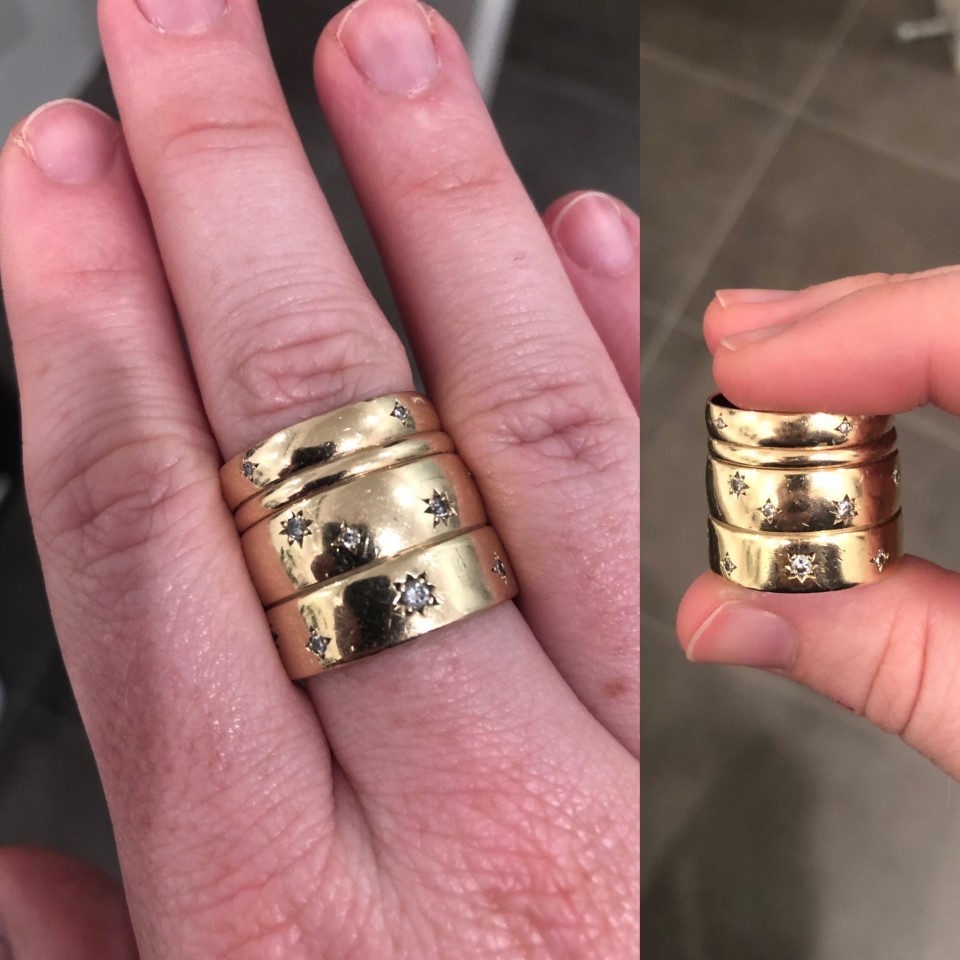 This ring has been many years in the making, and is a symbol of family, love, achievement and celebration. It has evolved over the years, but started out as four separate gold bands which I had joined together to form one band. I was given or bought each of the rings at different stages of my life: one is a family heirloom from my grandmother, another was a gift from my parents on graduating university, while the other two were purchases from me-to me as a celebration of achieving personal goals (because why wait for a man to buy you jewellery when you can buy it yourself!). Once I had the four rings, I was constantly wearing them on the same finger so decided to have them joined together. After wearing the beautiful combined gold band for a couple of years, I decided it was time to glam it up even more by adding some diamonds into the mix. In order to stick within my tight budget, I used tiny estate diamonds which I saved up to buy. I then had the diamonds set into the band in a random scattered pattern, which loosely reflects a star constellation. I adore it, and the diamonds are all different sizes which pick up the light beautifully from their different positions in and around the band. I wear my ring every day and absolutely love looking down at it. I love that of all pieces of jewellery, it is the one style that can be appreciated a lot by the wearer, as you can see it on your own hand (as opposed to necklaces, earrings etc which are mostly seen and appreciated by others). I wear it with pride and it is a constant reminder of my family, love and of working hard but taking time to celebrate the milestones along the way.
Book Your Bespoke Experience
A perfect piece.
A perfect reflection.
Your jewellery should be an expression of who you are and as special as the occasion or memory it is created to honour. Allow our master craftspeople to guide you through our bespoke experience. We take the time to understand your vision, budget and personal aesthetic so that we can create an exquisite piece of fine jewellery to treasure always.