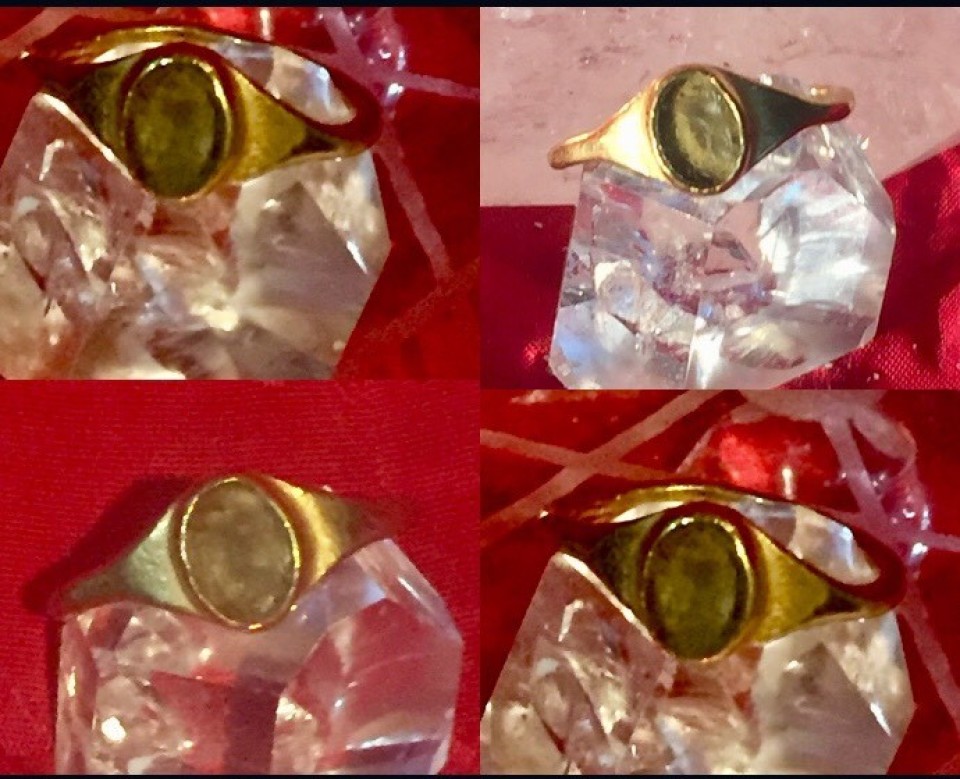 My Roman Ring


Res ipsa loquitur prima facie .
Multum in parvo

The thing itself speaks at first sight .
There are many good things in something small .

Lost to its original owner -
Spending more than a millennium hidden
Buried and forgotten , hidden in pottery
Deep in the earth .
Now it was left languishing , lonely still
In York's antiquities shop .


The woman feels it call to her
Seeking a reunion with its kin .
She has felt an unexplainable tug
pulling her
back to the land of her birth
Some 12000 kms away .
Now she stands still
enchanted and speechless.
No one notices
that the ring
It sings for her .
This lady whose name
means 'Italian woman '
And whose father wore in profile
The stoic Roman nose .
The spirit of this place
Embodied deep within that ring .
Its energy it draws her in
Minerva etched delicately into its face
A ring fit for a poetess .
Without delay or suprise
She feels compelled to slip it on
Her finger and the ring united ,
As if the ring were created 1700 years ago
just to mould
and navigate the curves and contours of her very fingers .
Feeling like a lost appendage returned.
The price never really a consideration.

Alea iacta est
The die is cast

The ring sings softly
As the woman journeys with it back to its new home .
Chanting a lullaby to the ancients
That the seed
Of Julia's descendants
Had scattered themselves further than
the great Empire had ever been able to .
The ring now adorning its rightful finger
Soft gold shone bright like the harvest sun
The old ring in modern times
A nod In honour of the
Gods and Goddesses of old .
It had been a long journey _
Through time and history
And layered energy of
York and Roman Britain
To the light and Aroha
Of Aotearoa - now home .
The ring it bathed in the 'new' energy .
And it felt lighter .
A treasured taonga
It began omitting
it's own noticeable ihi .
When worn ,
It became
a subliminal muse for the aspiring poet
And acting as a conduit
quietly sharing its te kaha pai with all .

Nau Mai Rā
Welcome Home .



Book Your Bespoke Experience
A perfect piece.
A perfect reflection.
Your jewellery should be an expression of who you are and as special as the occasion or memory it is created to honour. Allow our master craftspeople to guide you through our bespoke experience. We take the time to understand your vision, budget and personal aesthetic so that we can create an exquisite piece of fine jewellery to treasure always.