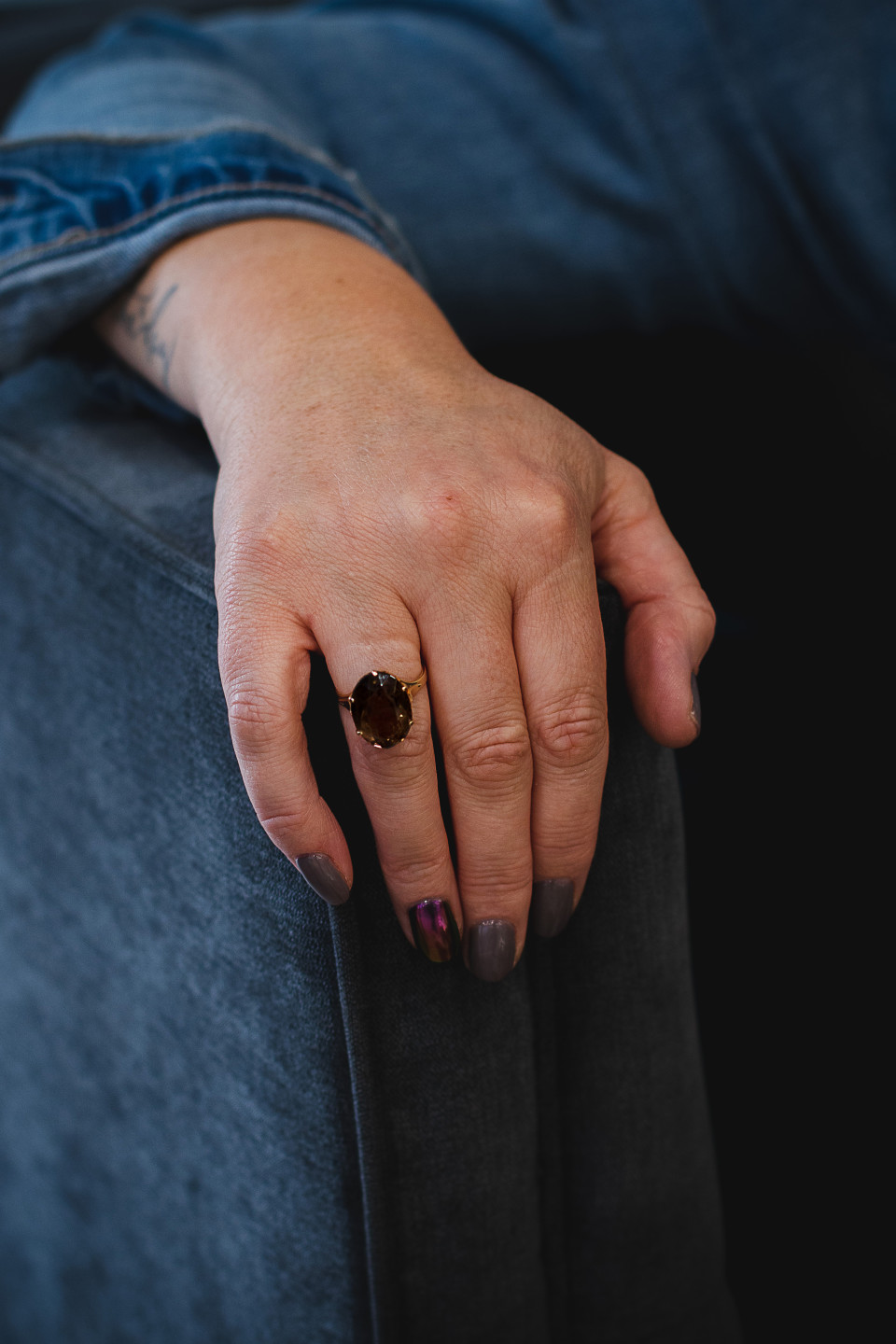 My Grandad, Peter, as well as being a tough old kiwi bloke who enjoyed homebrew and hunting wild boar with his son and their dogs, was also incredibly sentimental. He loved semi-precious stones and would dig for them, cut and hand polish and collect them. He had a beautiful Smokey Quartz that he had lovingly cut and polished and gave this particular stone to his daughter, my Mum. Mum also loved the stone but wanted to pass it onto her daughter (me) so she designed a ring and had it set at a local jeweller in the UK and gave it to me for my 25th birthday.
Unfortunately, I lost the ring and had no idea where it had gone, I was desperately sad about it and despite looking everywhere I couldn't find it.
Fast forward to my wedding day which we had in New Zealand in 2009. During the wedding reception I noticed that my cousin's wife was wearing a ring that was incredibly similar to the ring from Grandad, but how could she be wearing it? I asked someone to ask her where she got it from and she said, "I was clearing out the spare room years ago and I found this ring under the bed. I asked all my friends and family who had slept in there if it was theirs, but no one laid claim to it, so I put it in the bathroom cabinet and forgot about it. This morning as I got dressed for the wedding I was compelled to put the ring on and wear it - I had never worn it before and it didn't even go with my outfit!" She took the ring off and gave it to me and it was indeed my ring from Grandad. I had slept over at their house on a previous trip to New Zealand and must have taken it off at night and forgotten about it. Grandad had found a way to get the ring back to me and to be present on my wedding day, and it was beautiful.
Book Your Bespoke Experience
A perfect piece.
A perfect reflection.
Your jewellery should be an expression of who you are and as special as the occasion or memory it is created to honour. Allow our master craftspeople to guide you through our bespoke experience. We take the time to understand your vision, budget and personal aesthetic so that we can create an exquisite piece of fine jewellery to treasure always.