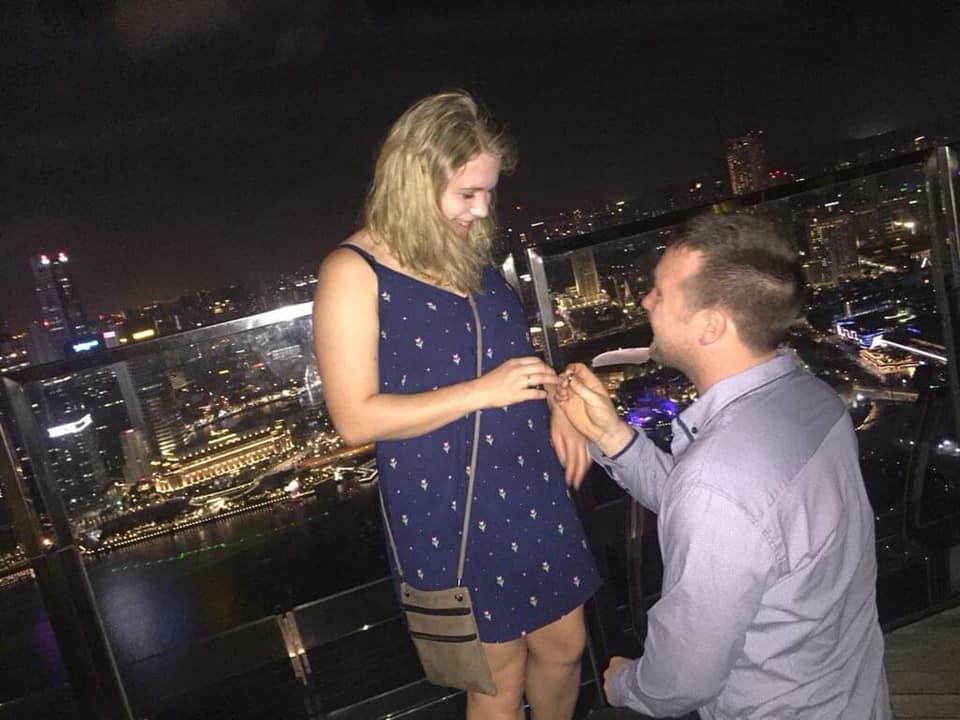 Me and my fiance went on holiday to Singapore a couple of months ago. On the way over he had to collect my engagement ring from the collection point at duty-free. I get really nervous in airports and he had to find a way to get away from me which proved very difficult as i wouldn't let him out of sight. He managed to duck behind some shelves to get away from me and get to the collection point to collect the ring. It was a close call as the lady behind the counter was in no rush and as he walked out of the collection point i was right there and almost busted him.
Once we got to Singapore he wanted to propose at the gardens by the bay but i was jet-lagged and it was 33 degrees (which i wasn't used too!) and we had been out in the sun all day so i was complaining and wanting to get out of the sun. He had the ring in his t-shirt pocket and wanted to propose to me as soon as possible so that he didn't have to worry about losing it! But it wasn't the right time as i was not feeling 100%.
The next evening we went up marina bays sands which is 57 stories and looks over the beautiful city. We had seen the light show and he kept going on about getting someone to take a photo of us with the city in the background. He asked someone to take the photo and kept asking for one more photo, then he got down on one knee and asked me to marry him and caught it all on camera!
I absolutely love my Dalgleish diamond ring and it was definitely worth the 5-year wait.
Book Your Bespoke Experience
A perfect piece.
A perfect reflection.
Your jewellery should be an expression of who you are and as special as the occasion or memory it is created to honour. Allow our master craftspeople to guide you through our bespoke experience. We take the time to understand your vision, budget and personal aesthetic so that we can create an exquisite piece of fine jewellery to treasure always.