Spanish Princesses, Spinsters and Sisters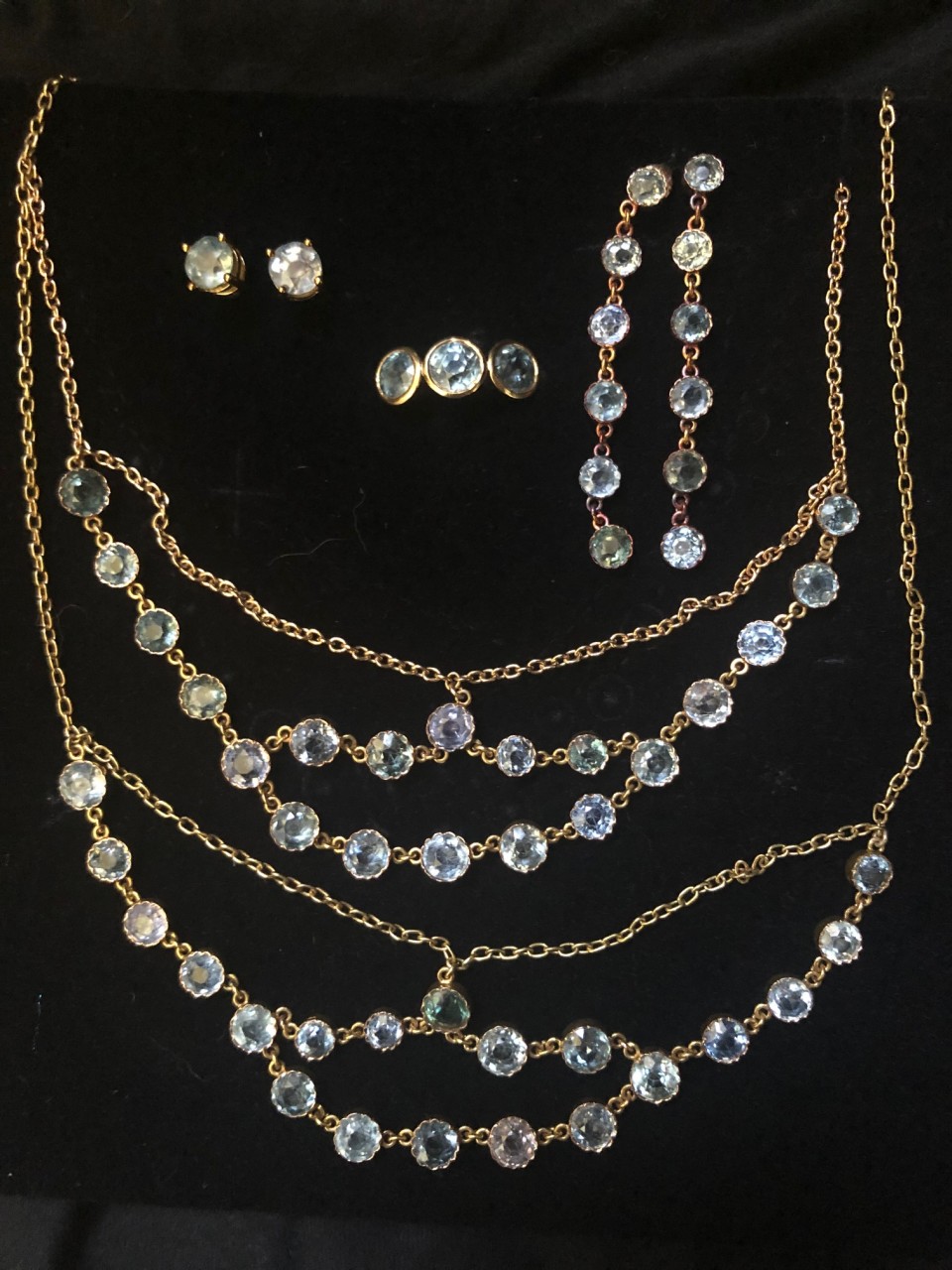 If Bill hadn't been there to hear this story first hand from my mother-in-law, I might not have been brave enough to share - it sounds like a fairy tale!

During World War II, two elderly sisters Miss Emily Mountford and Mrs Gill who lived together in London, met my husband's grandmother, Ellen at church. They became great friends, and she took care of them until they both died.

The sisters gave Ellen an unusual necklace composed of three strings blue sapphires, which they said had been given to them by the Spanish Royal Family.

Could this be true? We undertook some research, finding the necklace could have been given to them by Queen Maria Christina of Spain who had two daughters. King Alfonso XII, the princesses father had died when they were 6 and 4 years old and their mother became the queen around this time. The English sisters were governesses, and could have been employed by the Spanish Royal Family, travelling to Spain, where they would have tutored the two princesses Maria de las Mercedes and Maria Teresa. When the sisters gave Ellen the necklace, they told her they had been given china and jewelry - including the sapphire necklace, by the Queen as a thank-you for their valued service as governesses to the two princesses, before they both returned to live in London.

Ellen had a son, my father-in-law, who inherited the necklace when she died in 1996. Unfortunately he died several years later, with the necklace kept safe by my mother-in-law.

I have two daughters, and my mother-in-law decided to gift the necklace to the girls - with the idea of splitting it into two pieces.

Enter Dalgleish Jewellers and Bill, who listened to the tale told by my mother-in-law, held the necklace in his hands and like us, thought long and hard about whether it should be tampered with. We were respectful of its supposed heritage, and Bill came up with a plan to split it into two, retaining the original form of delicate draped chains as much s possible - however adding a more contemporary, but classic flare. The original settings were retained as far as possible, with studs, drop earrings made with the left-over smaller stones and an epic three stone ring by Jakob.

Who knows whether the story about the origin of the necklace from the Spanish Royal family is true or not. We can only know that Miss Mountford and Miss Gill told the story to Ellen, and gave her the necklace out of their love for her, which is far more important than where it originally came from.

Bill and Jakob found a way to link everyone together from the past and into the future by creating two beautiful sets of jewelry for two sisters today, from beginnings over 70 years ago where there was a heartfelt gift by two sisters to their dear friend, who was my daughters' great grandmother.

Book Your Bespoke Experience
A perfect piece.
A perfect reflection.
Your jewellery should be an expression of who you are and as special as the occasion or memory it is created to honour. Allow our master craftspeople to guide you through our bespoke experience. We take the time to understand your vision, budget and personal aesthetic so that we can create an exquisite piece of fine jewellery to treasure always.