In the Loupe: Ruby Gemstone
Fine quality ruby gemstones glow with intense red in sunlight thanks to red fluorescence, which intensifies its stunning red colour. Rubies are considered to be one of the most valuable gemstones, garnering the highest per-carat price of any coloured stone.
The determining factors of a rubies value are by colour, clarity, cut and carat weight. The colour of a ruby has the most significance on a ruby's value. Fine gems are a pure, vibrant red to slightly purplish red. It is rare to find a fine quality ruby gemstone over one carat, for this reason, the price per carat increases considerably as the size increases.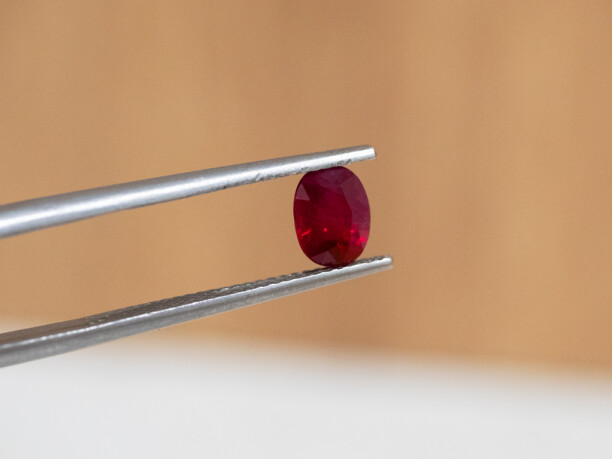 Specifications
Rubies are from the corundum mineral family, along with sapphire, and have a Mohs hardness rating of 9. This makes ruby an ideal gemstone for jewellery pieces designed to be worn everyday, like engagement, wedding and eternity rings.
Sources
Rubies are sourced from Myanmar, Sri Lanka, Thailand, Cambodia, Madagascar, Kenya, Tanzania, Mozambique, Afghanistan, Nepal, and Vietnam
History
Historically rubies were treasured for their similarity to the redness of the blood that flowed through their veins, and it was believed that rubies held the power of life.
Birthstones and Anniversaries
Ruby is the birthstone for July and represents the 15th and 40th year wedding anniversaries.
View some of our ruby jewellery ring designs.
Our jewellers can work one-on-one with you to create your own unique bespoke ruby piece. If you have an idea in mind, then contact us below to speak to one of the team who can take you through our design process and discuss options with you.
Book Your Bespoke Experience
A perfect piece.
A perfect reflection.
Your jewellery should be an expression of who you are and as special as the occasion or memory it is created to honour. Allow our master craftspeople to guide you through our bespoke experience. We take the time to understand your vision, budget and personal aesthetic so that we can create an exquisite piece of fine jewellery to treasure always.